Indigenous Literacy Day 2022
The University Library celebrated Indigenous Literacy Day on 7 September by purchasing culturally relevant books to add to its Pedagogies in Practice Collection.
Print titles will be available for loan from the Magill Campus.
No Way Yirrikipayi!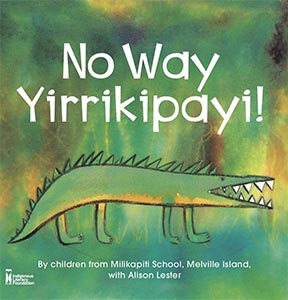 Alison Lester and the children from Melville Island
(print edition)
Yirrikipayi the crocodile lives on the Tiwi Islands. He's hungry. He goes hunting, chasing animals in the sea and on land.
What's for dinner? Meet the animals and learn their Tiwi names.
'No Way Yirrikipayi began as a workshop idea and has grown into a fabulous picture book. You're going to love this funny Tiwi story with its beautiful Illustrations.' Alison Lester
---
Nginingawila Ngirramini: Our Story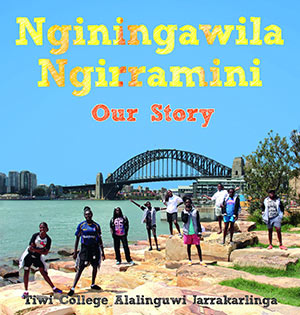 Tiwi College Alalinguwi Jarrakarlinga
(print edition)
In this collection of inspiring pieces, the girls share stories about their heroes, their sacred places and the happiest moments of their lives. With an introduction by Indigenous Literacy Foundation ambassador Dr Anita Heiss and author Pamela Freeman, Nginingawila Ngirramini was created in Sydney as part of the ILF s Create Initiative, a workshop program to improve literacy.
Students: Bobette Joran, Rina Moreen, Sharna Austral, Jess Stassi, Shania Puruntatameri, Ella Moreen, Sherayne Puruntatameri, Jasmine Brooks and Angelita Tipungwuti.
---
I Open the Door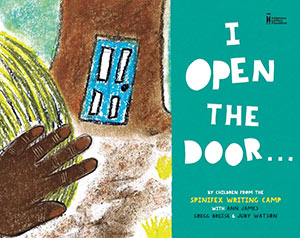 The children from the 2016 Spinifex Writing Camp with Ann James, Gregg Dreise and Judy Watsonng
(print edition)
I Open the Door...contains nine interconnected stories, all of which begin and end with opening a door. The young author/illustrators at the 2016 Spinifex Writing Camp were encouraged to let their imaginations run wild, and the result is a book that will simply take your breath away. Prepare to be intrigued, surprised, fearful and delighted as you turn the pages to follow the adventures of what happens when a door is opened.
The Indigenous Literacy Foundation's motto of 'Reading Opens Doors' became the inspiration for the stories that were written at the 2016 Spinifex Writing Camp held once again at Tjuntjuntjara, this year with mentors Ann James, Gregg Dreise and Judy Watson.
---
Tiwi Girl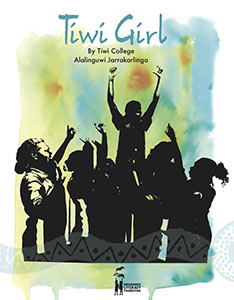 Tiwi College Alalinguwi Jarrakarlinga
(print edition)
Tiwi Girl, written by the students of Tiwi College (Tiwi Islands, NT) with Alison Lester, is about a young girl named Mia. Mia is much like the students, and the story emphasises the challenges and choices that Tiwi girls are faced with. The watercolour and ink press portray the local environment, bringing the story to life.
The book was developed in collaboration with HarperCollins in 2014, as part of the ILF Create Initiative. It was launched on Tiwi Island in May 2016.
---
Somebody's Land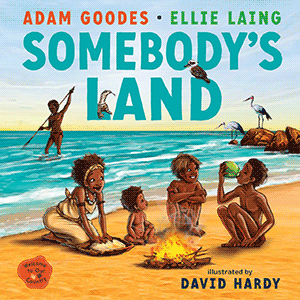 Adam Goodes, Ellie Laing and David Hardy
(print and ebook)
An accessible picture book for young children that introduces First Nations history and the term 'terra nullius' to a general audience, from Australian of the Year, community leader and anti-racism advocate Adam Goodes and political adviser and former journalist Ellie Laing, with artwork by Barkindji illustrator David Hardy.
For thousands and thousands of years, Aboriginal people lived in the land we call Australia.
The land was where people built their homes, played in the sun, and sat together to tell stories.
When the white people came, they called the land Terra Nullius. They said it was nobody's land. But it was somebody's land.
Somebody's Land is an invitation to connect with First Nations culture, to acknowledge the hurt of the past, and to join together as one community with a precious shared history as old as time.
Adam Goodes and Ellie Laing's powerful words and David Hardy's pictures, full of life, invite children and their families to imagine themselves into Australia's past - to feel the richness of our First Nations' history, to acknowledge that our country was never terra nullius, and to understand what 'welcome to our country' really means.
---
Ceremony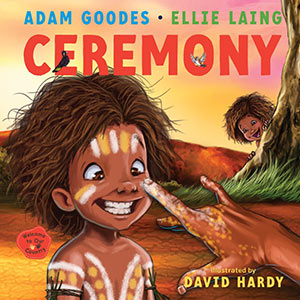 Adam Goodes, Ellie Laing and David Hardy
(print edition)
A joyful celebration of family and culture, the Welcome to Our Country series introduces First Nations history to children. From Australian of the Year Adam Goodes, co-writer Ellie Laing, and Barkindji illustrator David Hardy.
Welcome, children!
Nangga! Nangga! Yakarti!
Tonight will be our Ceremony.
Our family gathers as the fire burns.
The smoke rises up as we take it in turns . . .
Then clapsticks tap - one, two, three -
but a stick is missing! Where could it be?
Joyful and full of fun, Ceremony invites you to celebrate the rich traditions of dance, family, community and caring for Country from the world's oldest continuous culture